Programmes
Industry Training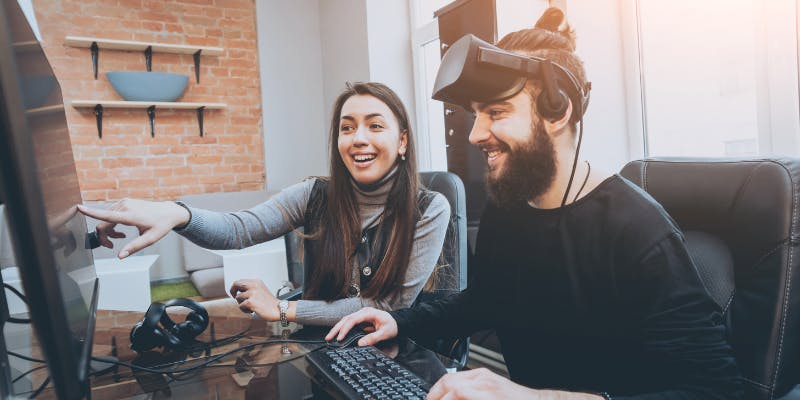 Retain and grow your staff's skills and knowledge with our high-quality games sector-specific training programmes across a wide range of disciplines. 
Create or maintain a Culture of Learning and Development in your studio with our highly effective learning packages built for the games sector directly by industry professionals. The training is practical, exciting and developed to help you retain staff and increase ROI - all training profits go directly to supporting our wider non-profit work, ensuring we can continue providing access to the games sector for all, no matter someone's background.  
Champions Training 
Whether you want to inspire new leaders in your organisation or ensure that everyone understands the importance of developing great communication, we can help. 
Our Champions training is a 12-month programme consisting of up to 5 training sessions that can be delivered online or in person, depending on your needs. The programme is designed to promote a culture of learning, instil confidence and provide a fertile ground to help build the next generation of leaders and influential communicators in your organisation. The training includes sessions in; 
Public Speaking 
Leadership 
Mentorship 
Empathic Communication 
Workshop Design   
In addition, participating staff will be provided with DBS checks so they can safely volunteer in your regional area via our Videogames Ambassador programme, fully equipped to work with young people and be connected to regional schools and youth groups via our Into Games educational network.  
Champions training is a must for any growing studio that wants to build a kinder, more open studio environment.   
Into Games Sprints  
Finding discipline-specific training for your teams is hard, especially for your most skilled staff. 
Our online Sprint courses are practical, short and affordable training programmes created and delivered live by world-leading games sector professionals that will excite and educate your teams with the latest, most up-to-date information available, dramatically improving your team's knowledge base.    
Our Sprints framework has been developed with support from the government-backed innovation team, Innovate UK, to provide a highly engaging and immersive learning experience based on practical work and collaboration.  
Sprints run in the evenings throughout the year and offer a flexible way for your staff to pick up new skills and expand their network. We run Sprints in Programming, Audio, Design, Art, Narrative and UX with our large team of knowledgeable industry Sprint leaders who have all worked at some of the world's largest and most prestigious studios.  
Sprints can be accessed by your team all year round. Please take a look at our latest training Sprints or contact us for more information and studio discounts on multiple staff.   
Bespoke Training
Your studio may have very specific training requirements that are unique or time-bound. Please get in contact with us directly, and we will try our best to help.