Welcome to another Into Games Twitter Q&A which we host lunchtime every Thursday with industry professionals. Last Thursday we had the amazing opportunity to interview Aleks Jankowska, environment artist at Splash Damage.
In this interview, Aleks shared with us her reasons for getting into environment art, resources she uses for inspiration, and how she finds being a part of our Video Games Ambassadors Program.
What games inspired you to get into the games industry?
'The Longest Journey' for sure - I was watching my older sister play and I remember the scene when the main character crosses into another world through a portal of light - the visuals blew my 6yo brain and that was it, my mind was made up! I wanted to make games!
There are so many different categories when it comes to being an artist. Why did you choose Environment?
During second year of uni I have hit a crossroad and has to make a decision in what I want to specialise in, after evaluation environment turned out to be the one that had the higher chance of success in my case.
What are your favorite types of environments to work on?
I love Victorian interiors, they have so much potential for lots of intricate detail and story telling. But truth to be told, making props holds the most special place in my heart as I *love* detail and I find prop work allows you to appreciate them more.
Max Downton - Can you share with us one of your pieces that you're really proud of?
I think the model of Neverwas Haul is my favourite, it's just so bizarre and interesting to look at! I also had a chance to explore tools I haven't used before too which is always good! 💪🏻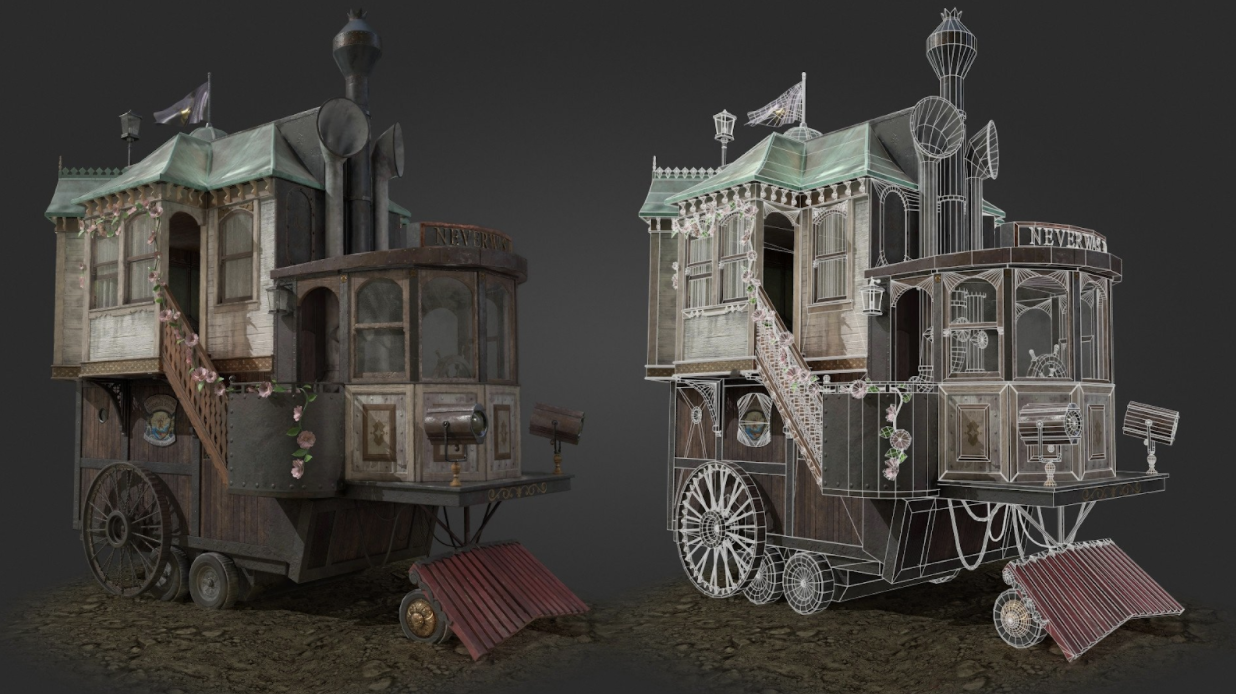 What advice would you give someone building their portfolio?
I'm a strong advocate of 'your portfolio is as good as your weakest piece'. Consider what games you want to work for, if you're aiming for a AAA big studios like Naughty Dog etc, you might want to specialise more, smaller studios tend to prefer a wider skillset.
Focus on showing off that you have mastered the basics - clean bakes, UVs, topology, basically your craftsmanship - it's a foundation your seniors will help you build on top of.
With all the new tech and photogeometry taking over, it's easy to brush over those things but they are critical imo - you might not always be able to use all the fancy stuff so make sure it hasn't taken over your whole portfolio and you have more to offer.

Cinzia Musio - What advice would you give to someone that wanted to do your job?
I would say stay curious and humble, keep learning and don't be afraid to ask for help if you get stuck, even if it's Google-time is very precious on any project! And also don't be afraid to seek feedback, another pair of eyes will help you make your work even better!
Ryan J Grant - If you wanted to get into your discipline now, what would be your advice? Would you have done it differently to how you did it with the experience and insight you've now gained?
I would definitely change my mindset going into job interviews - it's important to remember it's a two way street and in a way you're interviewing the company too! You want to work with like minded people so you can thrive and grow both as a person and a professional.

Coal - If you are out of ideas where do you draw inspiration from?
I tend not to force myself and just let the inspiration come to me! Being an environment artist, the world is my oyster! Pinterest is also a great source of inspiration. Once I have a general idea on what I want to do, I turn to other games and movies to refine my vision
How do you find being a part of the Video Games Ambassadors program?
It's great! I love meeting new people and I'm passionate about bringing in fresh, more diverse talent with unique outlook on life so I'm very grateful I have been given the opportunity to be VGA! It's a brilliant way to network too!
Thank you so much again to Aleks Jankowska for spending time with us and to the team at Splash Damage for being such a supportive studio! If you want to learn more about Aleks be sure to follow her on Twitter and if you're an industry professional curious about the Video Games Ambassadors Program, please head to the official website.
Join us next Thursday where we'll be talking to Anna Wikström from Creative Assembly.