Our mission at Into Games is to create a fair and equitable pathway to skill development and career progression in the games and immersive industries. And we see apprenticeships as a major part of making that happen. 
At the end of last year, we released our apprenticeships games report, detailing the state of play and what needed to be done to boost take-up. 
This report involved over 100 UK C-level staff in over 40 well-known studios. We found the start of a real positive sentiment towards apprenticeships and their possibilities to make more diverse and fair hiring routes, with over half of respondents saying that they would possibly take on an apprentice in the next 12 months if the conditions were right. 
While almost 95% agreed that apprenticeships should be as valid a route into the sector as a university, 56% admitted to having little to no understanding of apprenticeships and how they worked. 
Now is the right time to make apprenticeships happen in the sector. 
Here is how we at Into Games work toward this:
We offer free advice and information to any employers interested in learning more about apprenticeships in games; and we're also happy to amplify any open positions you have. You can send enquiries per mail!
We collaborate in a new National Strategy Group to examine existing and future standards. The group consists of industry leaders like Sumo Group, nDreams, Ubisoft, Creative Assembly and Epic Games, as well as Training Providers, End-Point-Assessors, Consultants, and institutions like UKIE, BAFTA, government organisations and more.
We create FastTrackers courses (free preparation programmes) for up-and-coming apprenticeships for talent seekers. You can register your interest here. 
Why apprenticeships?
Many studios are members of the #RaiseTheGame pledge or have their own mission to make the industry more accessible, yet UKIE's 2021 census showed a shortage of people from disadvantaged socio-economic backgrounds and other marginalised groups . Apprenticeships help in addressing this issue, as they allow learners to earn as they learn, which enables people from low-income backgrounds, carers, returners from parental leave, career changers and others to join the industry. The Social Mobility Commission described them as one of the "most powerful and effective means of boosting social mobility amongst workers from less advantaged backgrounds".
They are not only a force for positive change, they are also great ways of fostering loyal talent:
In the National Apprenticeship Service's recent guide, 69% of employers say that employing apprentices improved staff retention – and they have a positive impact on overall staff morale. Data from the National Apprenticeship Service (NAS) website shows 90% of apprentices stay on after completing an apprenticeship.
And lastly: the training for apprentices is practically free!
Any larger company with an annual pay bill over £3 million per year is paying part of that bill into a levy that can only be used to fund apprenticeships. If they chose to use this levy money, it can be backdated up to 2 years and they receive an extra 10% government top-up. If it doesn't get used or transferred? It expires and returns to the government.
Smaller businesses have two options: let the government fund 95% of the training and pay for 5% from their own pockets – or apply for a levy transfer; in which a larger employer donates part of their unused levy to fund 100% of the training for them!
Since apprenticeships can also be used to upskill employees or help them transition from one role into another one, this should excite Learning & Development managers on a tight budget!
Who can be an apprentice?
Apprentices can be anyone over 16 years, but that doesn't mean they are only for young people. In fact, in 2019/20, almost half (47%) of apprenticeship starts were by people aged 25 or over. 
They are suitable for people from a wide range of previous experiences, as long as they learn something new!
And as mentioned before, you can either use them to bring in exciting new talent or use them to upskill staff internally.
How do apprenticeships work & what standards are out there?
During an apprenticeships you hire someone as a full-time employee and they spend roughly 80% of their time in their job, and the rest of their time in training.
The levels of standards describe their UK education equivalents, Level 4 and upwards are considered higher apprenticeships: a Level 6 apprenticeship is equivalent to a Bachelor's Degree and a Level 7 standard is en-par with a Master's Degree!
While there are many exciting standards overall; our report only identified about 7 standards that align highly with the games industry in their current state:
HR Support
Accountant
Data Analyst
Learning & Development
Junior Animator
Community Manager
Game Programmer
Since Digital Community Manager and Game Programmer are relatively new standards, we partnered with training providers to create the first industry-wide cohorts this October! If you are a company considering hires in these areas over the next few months, apprenticeships are just perfect for you!
Level 4 Digital Community Manager
This standard has just been approved for delivery last year and Ubisoft has already used it to great success to level-up employees in their Community Management and Customer Service Teams since it is suitable for any employees who work closely with customers and clients.
It is split into 4 main modules, which teach participants all about efficient community management, brand-loyalty, communication, reporting and more.
Check out these fact-sheets for more details.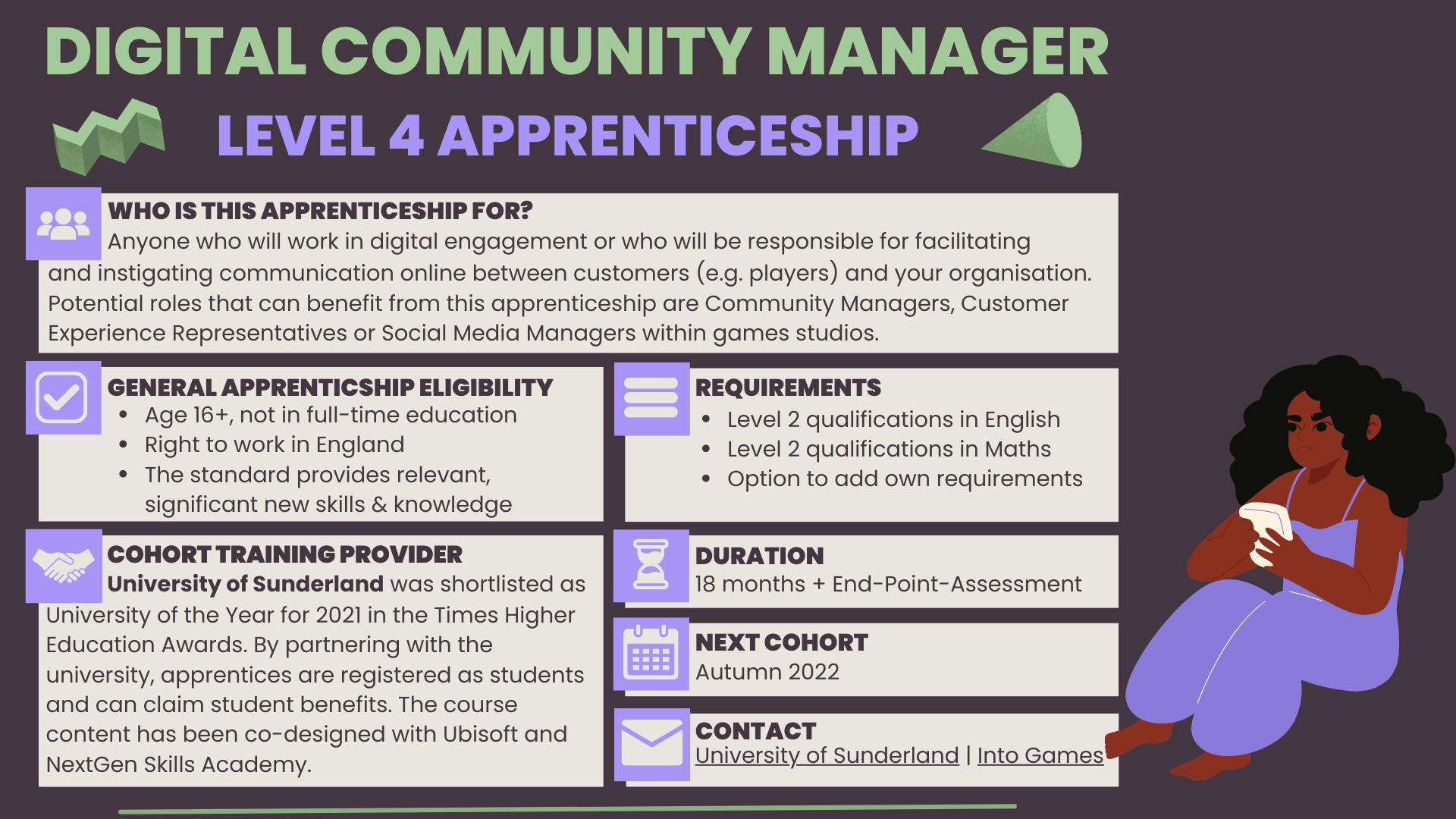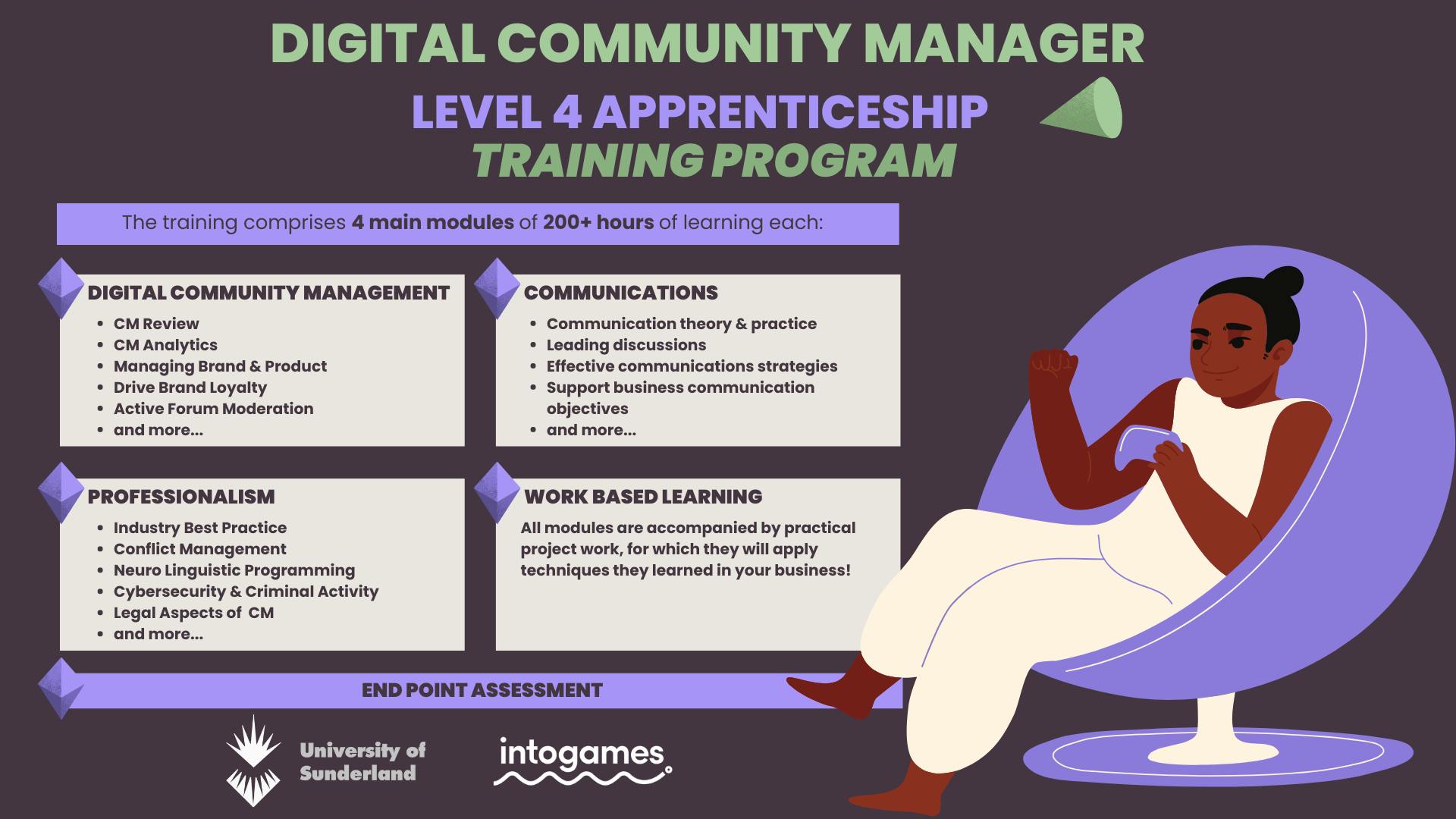 We are creating the first industry-wide cohort for Digital Community Manager apprentices this autumn and are still looking for more studios keen to be amongst the pioneers to champion this!
Studios: Talk to us about taking apprentices!
Career Seekers: Register to hear about open positions!
Level 7: Game Programmer
This exciting standard is also very new and our friends at Sumo Group have so far been the only ones delivering this in the UK in their in-house Sumo Academy. We worked together with Kaplan and The Game Assembly to set up a UK-wide provider who can support this standard, so it becomes more accessible to all studios!
It allows you to foster amazing Game Programmers with a specialisation on C++ in-house.
Check out these fact-sheets for more details.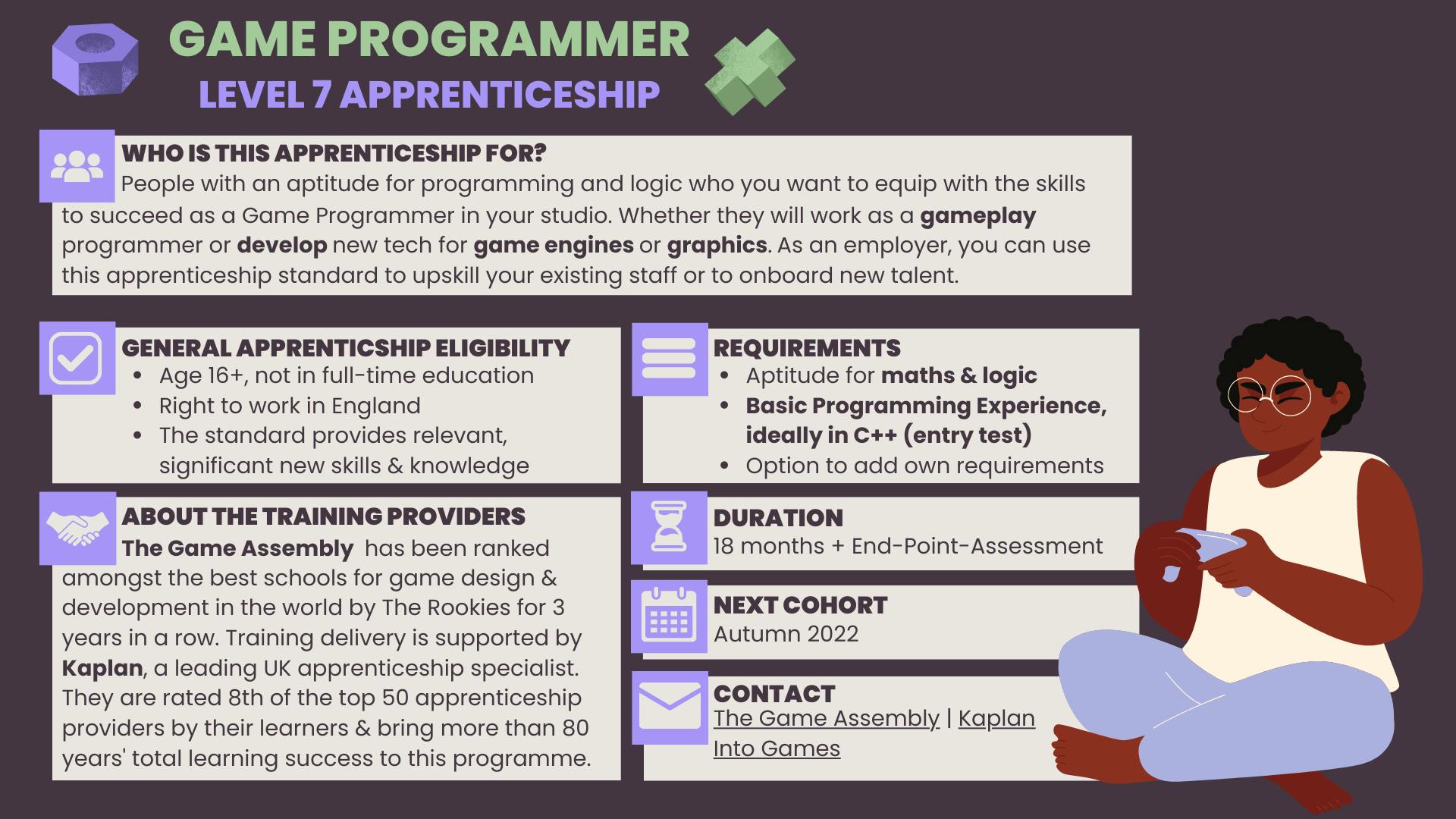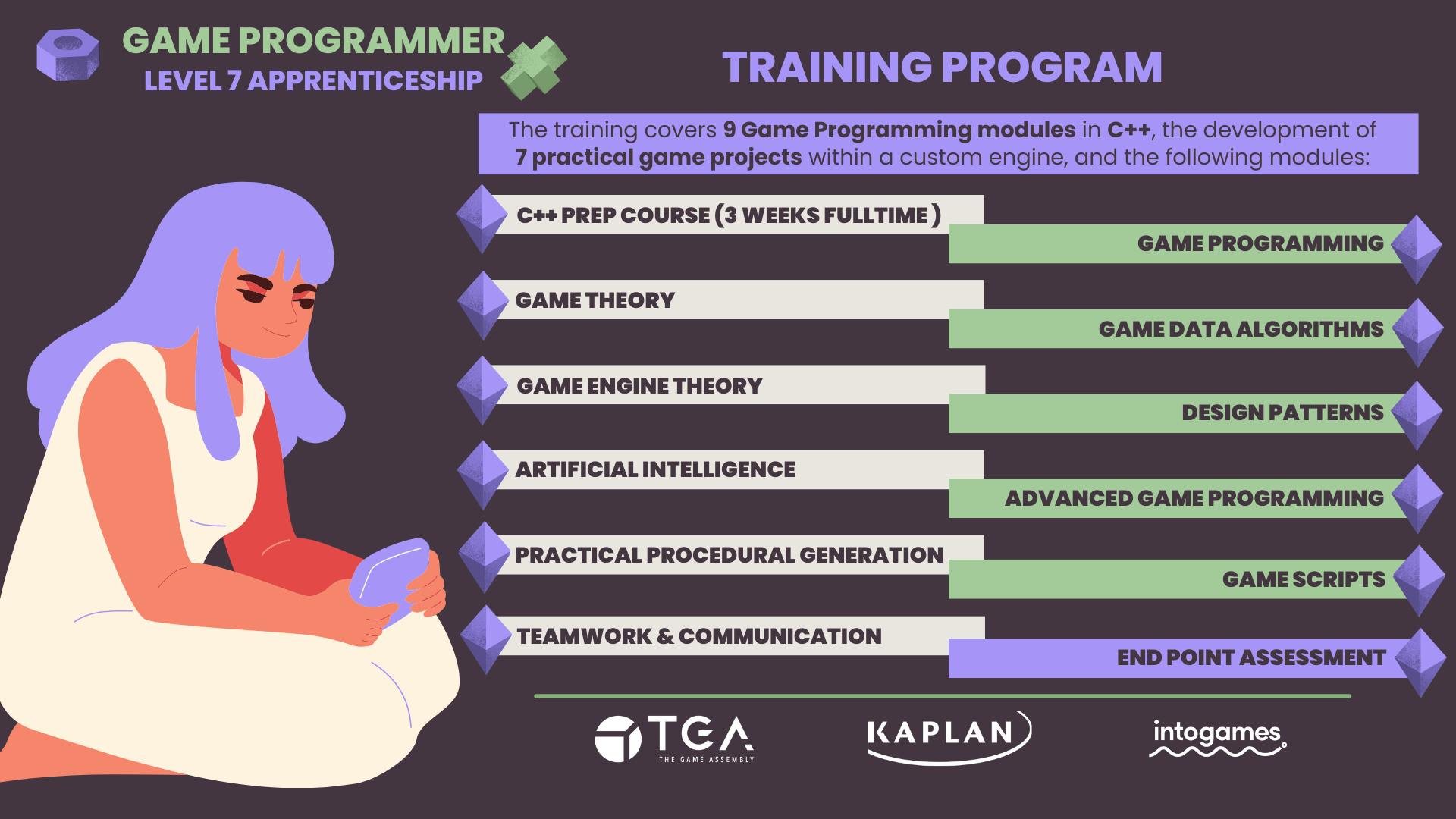 If you would like to be part of the historic first open cohort in October and are ready to take on apprentices, let us know and we'll help you get things sorted!
Studios: Talk to us about taking apprentices!
Career Seekers: Register to hear about open positions!
Conclusion
Overall, the games industry is far behind on apprenticeships compared to other sectors, but we have an exciting opportunity to change this together.
"Unlocking the value of apprenticeships across the games sector could play a valuable role in closing the talent gap, diversifying our workforce and delivering the economic benefits of our industry to all." - CEO for The Association for UK Interactive Entertainment (UKIE)
Apprenticeships diversify the route into the games industry workplace and diversity brings new ideas, perspectives, and creativity to the industry. They also provide opportunities to candidates who may have followed different educational and professional pathways, and otherwise never have considered a career in the games industry. 
You can contact apprenticeships@intogames.org, or head to https://www.apprenticeships.games/