First launched in September 2020, Kickstart is a UK Government Scheme created to help support young people and their journey back to work after the economic effects of the COVID-19 Pandemic. Companies who engaged with the scheme had the cost of employment for 6 months covered by the government, creating a hugely reduced risk and expense normally associated with hiring young new staff.
With the scheme coming to an end in March 2022, we thought we would take a look back on our experience with Kickstart, and what we have been able to achieve. 
"The Into Games team have generated unprecedented results as a Gateway Provider for the Kickstart Scheme - converting over 30% more applicants than any other Provider nationally." - Department for Work & Pensions.
Our Contributions
Into Games strives to work towards making the Games Industry a more accessible sector. The Kickstart scheme provided companies with an amazing opportunity to diversity their team from an incredible talent pool now available due to the pandemic. Our involvement in the scheme ensured that work coaches were able to understand the specific requirements of Games Industry entry-level roles.
Our careers lead Sara Machado trained over 200 work coaches in Gaming Industry Awareness in order to assist them in finding the right candidates.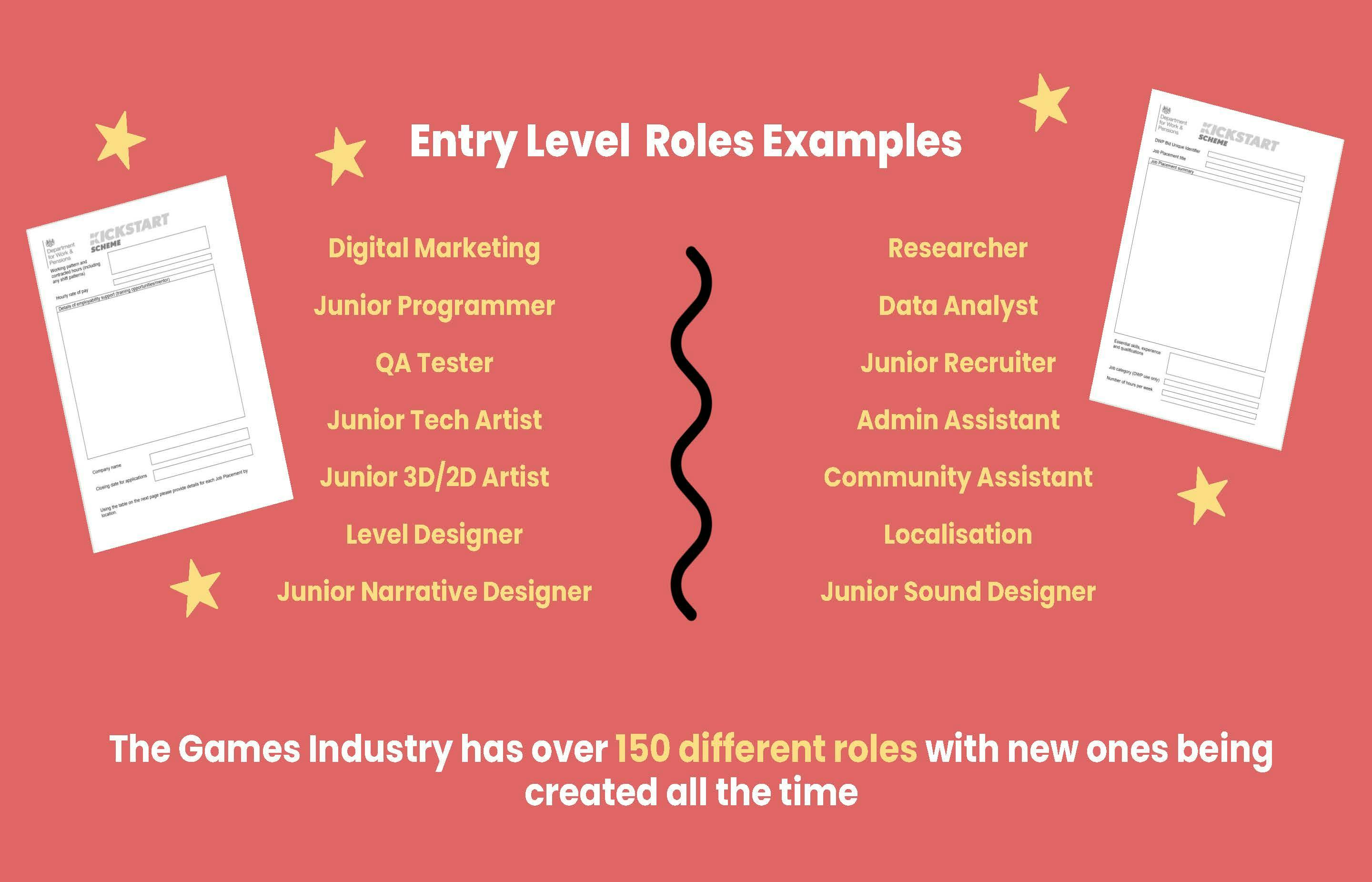 How Has Into Games Improved the Process? 
Into Games advertised the Kickstart roles on 2 game-specific job boards: Work with Indies and Hitmarker. This was to ensure that we attracted candidates who understood the industry and are motivated to look in the right places. 
As Gateway Providers to the Kickstart Scheme, Into Games provided all the required employability training and support to Kickstart applicants who worked with us.
Into Games did all the coordinating with the DWP and UKIE, as well as assisting with the administration to cut wait times. 
"Because Kickstart hires through local job centres, games companies are finding that they are reaching local talent in their communities that they previously didn't know were there. This helps companies tap into talent that was not previously in games, broadening the range of people who are entering the games industry." - Dr. Jo Twist, CEO of UKIE. 
Key Statistics from the Kickstart Scheme:
38 studios hired young people.
95 young people hired, 91 still on the scheme.
200 Workcoaches have been trained about the Games Industry, in order to provide more specialist support to applicants. 
Over 230 placements have been funded. 
"I've had an incredibly good experience working with Into Games in hiring talents for our team. Everything has been perfectly streamlined and communication has been top-notch. As a result, we have managed to add 5 extremely talented young people to our team. Without Into Games, we certainly wouldn't be where we are today. Thank you so much!" - Seyed Nasrollahi - Unifiq.

During our time working with the Kickstart scheme, we have worked with a large number of UK studios to aid them in finding new talent. Some examples of the organisations we have worked with are; 3Finery, Electronic Arts, nDreams, Pocket Sized Hands, and many more.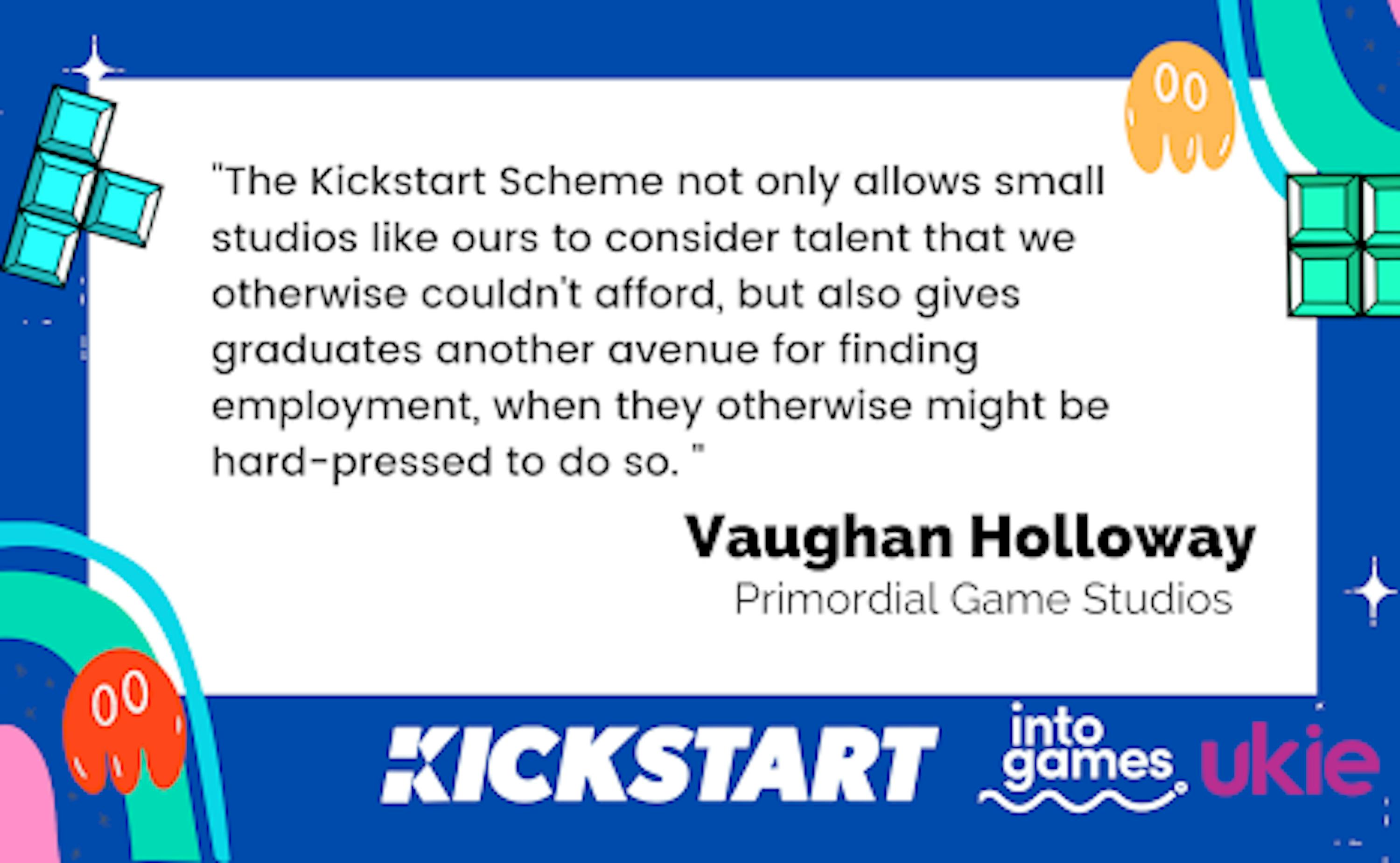 Alongside this, Into Games also hired employees themselves, with some hires being kept on in permanent positions, much like a lot of other companies:
"It landed me with a job in an incredible company full of amazing people. The job itself has helped me develop my skills in ways I'm grateful for every day. I've been offered (and accepted) a permanent position at the company, which has given me financial security as well as a space to continue growing as an artist." - Abbie Foster, Junior Artist at Six to Start.  
Moving Forwards - Apprenticeships 
With the Kickstart scheme coming to an end in a months time, we want to ensure that there are additional avenues available to applicants who have not been hired or need further support. We believe this will come from Apprenticeships. In 2021, we created an Apprenticeship Report, examining and assessing the current demand and interest towards apprenticeships in the games sector, speaking with over 100 games studios. 
It was found that there was an overwhelmingly positive attitude towards apprenticeships with 94.8% agreeing that they should be a valid route into work. However, as of the creation of this report, £4.2m in apprenticeship levy funding is going unspent by the games sector. Our report compiles six recommendations of how to overcome the barriers to adopting apprenticeships to increase the normalisation of apprenticeships as an entry route into the games sector. 
In 2022 we look forward to working with a number of partners to develop and support apprenticeship pathways into the sector ensuring that the door that Kickstart helped open, stays open.
To become an industry partner, contact us at: brandon@intogames.org.