Your first job in games can be a nerve-wracking (and brilliant) prospect. But how do you find a job or prepare for your first day in the studio? As part of the 2021 National Games Careers Week, we brought together some experts to answer questions and give that essential advice. 
Our group included Kim Adcock, Managing Director at Europes largest game recruiter, OPM Jobs, Joanna Green, CSR Co-ordinator at Creative Assembly (Total War, Alien Isolation), Emily Brown from ustwo (Monument Valley, Alba: A Wildlife Adventure), Gary Tibbet, Education Lead at the British Esports Association, and Brad Austin, Head of Games at Staffordshire London Universities digital campus. You can catch up on the entire panel in the video below, but here are some of the key highlights...
Getting the Job
Kim, OPM: "You need to have a keenness, and it helps to be a massive fan of your studio. Recruiters field applications on behalf of our clients. We talk to lots of studios….and our job is to introduce people the client is going to like, and not just because of their skill or ability, but that they will fit culturally into that studio."
Jo, Creative Assembly: "Include personal portfolios, because they matter a lot!"
Your First Day in the Studio
Emily, ustwo: "I had no idea what to expect. It was just like, play the stuff we've made and have a think about what we can make next, and let's pitch some things. It was much more open and unstructured than I had expected, there was lots of space for everyone ideas with much more back and forth than I expected." 
Gary, British Esports: "I was taught in Unreal and Maya in university and on my first day at Coatsink, I had to start using Unity and I'd never touched Unity in my entire life! I was so afraid I was going to break something... but I had lots of support from my colleagues and you learn so much more on the job, it's surprising how efficient you become."
Jo: "On your first day, you normally have your PC setup and a few welcome swag bags, a hoodie and t-shirt, which always makes you feel like your part of everything that's going on. You'll then be introduced to your managers and the people you'll be working with who might be in different disciplines, so programmers and designers. Often you'll do a tour of the studio just so you know where everything is you'll meet with HR and have a conversation with them too."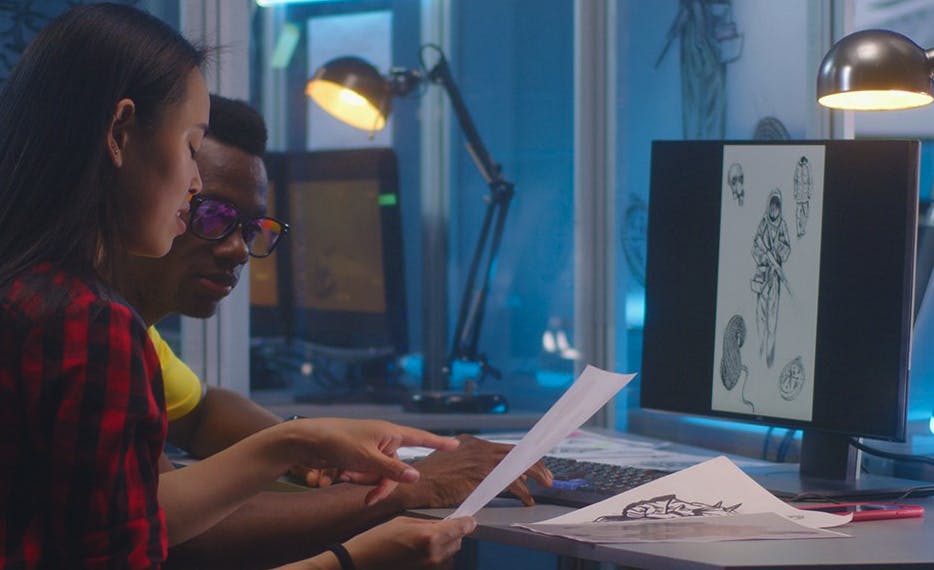 On Portfolios
Kim: "We see hundreds. It's got to grab you in the first few seconds, so open with your strongest pieces."
Jo: "Quality over quality, only put your best pieces of work in there. If you are not happy with it, the hirer probably won't be either. Make sure your university and personal pieces are there and make sure it's right for the studio you are applying to. It needs to be a relevant style to the games that the studio makes."
Gary: "Make sure the portfolio fits the job role you are going for. If it's an indie, you are a bit more of a jack of all trades, whereas for a big AAA, need to make your portfolio specific and just show the things that demonstrate the skills that the role is asking for."
Emily: "I'm looking for the story. I want to be able to play a game. I want to know how many people you worked with to do this. What were the challenges? I want to see people who can be critical about the game they have made."
Final Advice
Gary: "It's okay not to know what you want to do. Regardless of what you study, it will change."
Emily: "Sometimes gaming is portrayed a certain way, on the face of it it might look like you don't fit, but gaming is incredibly broad, you can find a place whatever your background or interests."
Jo: "Don't be afraid to put your CV out there and just give it a go. Look for junior and trainee roles and just ready around them. Even if you're a 1st or 2nd year, still have a look, so you can prepare and build your skills in the right areas."
Brad: Staffordshire London: "Yes, university assignments are important, but they are not the one and only thing that is going to get you the job, try and get your mindset into doing multiple things at once."
Kim: "Be kind to yourself, don't apply for things that you can't do. If you get rejected, try and get feedback, don't give up."