Dom Shaw, EDI coordinator from UKIE, joined us on our Discord for a panel discussion all about 'How E.D.I Can Empower Students.' He discussed tips for students looking for work in the industry, important things to look out for when searching for that perfect company to work for, and knowing your rights as an employee. 
In this article, we'll go through some of his key tips and cover what EDI means for you.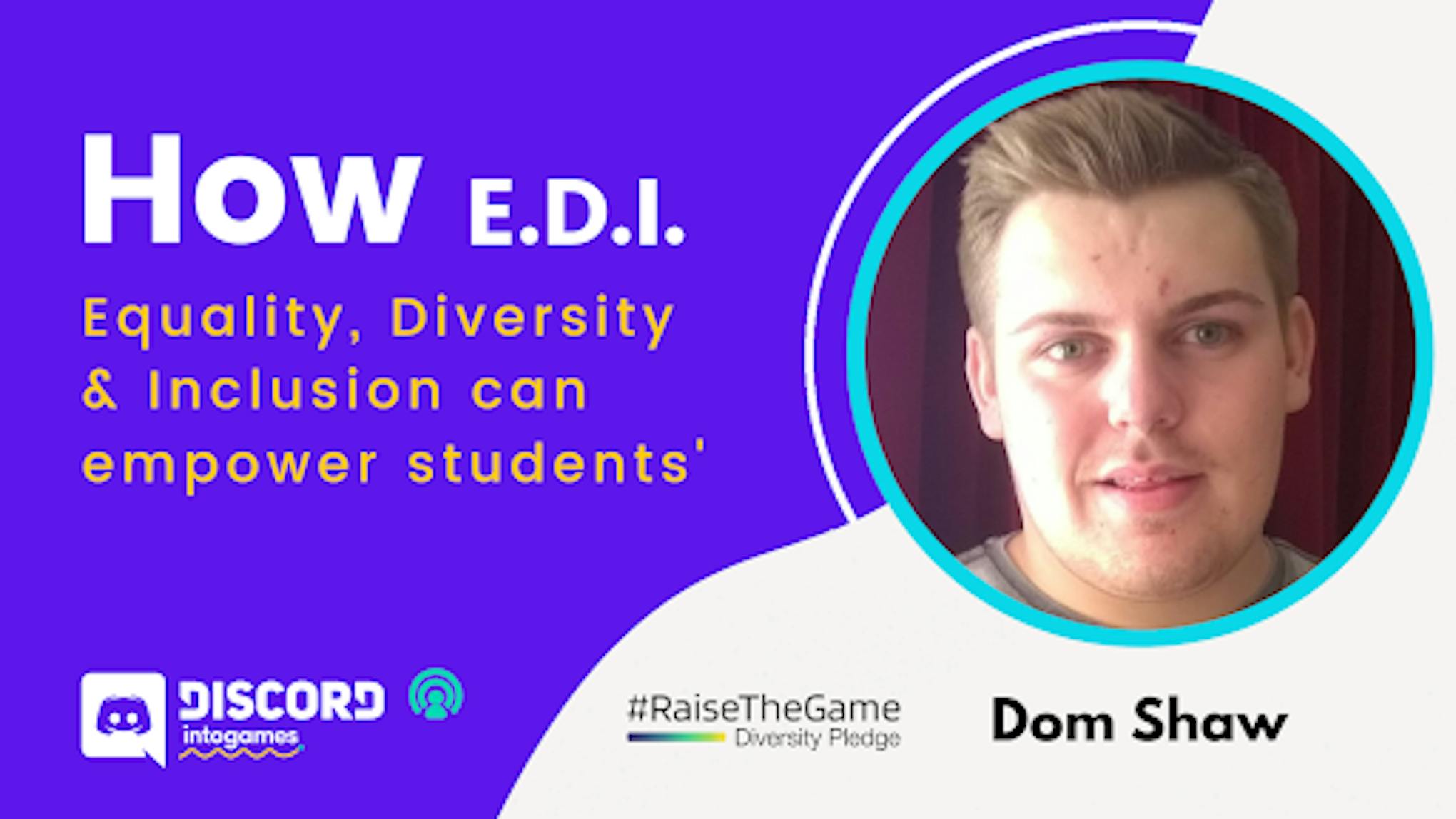 What is EDI?
EDI stands for Equality, Diversity and Inclusion. The aspiration for EDI is that everyone is treated fairly and equally, despite our differences. By making the games industry more diverse, we can celebrate our differences and learn from each other, while also creating games that pull from a variety of experiences, perspectives and inspirations.
Inclusion means that everyone has the same access to opportunities and resources, and everyone feels part of the same community. 
Equality (or equity) is when it's recognised that some groups were, and continue to be, disadvantaged in accessing educational and employment opportunities and are, therefore, underrepresented or marginalised in many organisations and institutions. 
Even with opportunities and resources being wildly accessible - there are still systemic barriers that need to be addressed. 
EDI encompasses: 
Age
Disability
Ethnicity or race
Gender identity
Religion or belief
Sexual identity 
Neurodiversity 
The above list includes only a few examples! EDI is constantly improving and developing, and the people it encompasses are growing as it diversifies. 
"In this era of globalisation, diversity and inclusion in the working environment is about more than gender, race and ethnicity. It also includes employees with diverse religious and political beliefs, education, socioeconomic backgrounds, sexual orientation, cultures, and disabilities." - UKIE, #RaiseTheGame
Make sure to come along to our open discussion on 'Navigating Neurodiversity in the Games Industry', this Friday on our Discord! We'll be joined once again by Dom, and freelance audio designer Cai Jones. 
You can Join the Into Games Discord here.
5 Tips to Empower Yourself Through EDI
1. Research which companies already have EDI embedded into their culture
With this knowledge and insight, you'll be able to see which companies are most likely to value and empower not only you but also your fellow colleagues. Sometimes, choosing a company is a luxury a lot of people can't afford. However, holding companies to standards of being accessible and inclusive is essential to changing attitudes and encouraging the industry to reconsider its focus. 
 One simple way to check if the company you're interested in is up to standard is by checking the pledge partners of UKIE's #RaiseTheGame - which we're a part of! 
You can also check company websites for any statements on diversity, and what they are actively doing to make the industry more inclusive. 
If you'd like more information on red flags to look out for when job hunting, check out this helpful guide by Hitmarker.
2. Look for advocacy organisations and take part in their networking opportunities
This can be a great way to meet other people from similar backgrounds to yours, who may have gone through situations and experiences you can relate to. Meeting people you can understand and share the same values with, is just one small, but impactful way to feel more involved. 
By teaming up with these people to advocate for EDI and share experiences, you can build a rapport, increase visibility and feel empowered to make a difference. Though it must be noted that this responsibility is not on you alone, everybody has a part to play in creating more inclusive, equitable and inclusive environments. 
Here are some organisations and opportunities to check out:
3. Knowing the progress of EDI can help motivate you
Become part of the slow change that's helping to make the industry more accessible and inclusive for everyone, including yourself, to work. Keeping up to date with the latest initiatives and organisations working to evolve the industry, like the ones mentioned previously, means you'll be aware of any projects you might want to get involved in. 
Not only is being involved with something you're passionate about incredibly rewarding but it can also positively impact employment and other opportunities you wish to explore.  
Being included can be a powerful feeling, and being proactive is often a key skill needed to access industries! 
To get an idea of the current state of EDI in the Games Industry, check out the UK Games Industry Census 2022 for insights.
4. Know your rights and values as an employee
As more and more focus is given to EDI, and rightly so, the dynamic between an employee and employer is changing. Two-way communication and understanding are increasingly important as we don't live to work, we work to live! 
It's a legal requirement for all UK businesses to prove employees a level of reasonable adjustments alongside fair contract terms and conditions that amend the Equality Act. 
Organisations such as IWGB Game Workers are advocating for UK game worker rights, tackling issues such as overworking and diversity and inclusion. 
5. Have fun!
EDI is not just all about serious campaigning. Have fun, be part of a diverse community and enjoy being welcomed to different experiences. That's just as vital, especially when considering creating allyship and growing bonds with people. 
Through doing things together and taking part in activities, you accomplish more than just words said aloud or written on a piece of paper.
Commonly asked questions from the Into Games Community:
To end the panel, Dom conducted an insightful Q&A with our Discord community. We've pulled out his key takeaways to share with our readers. 
"Do I have to disclose (insert diversity) to my employer during an interview?"
"No, you never have to disclose if you are not comfortable. Though I would advise considering whether that's because of your own feelings or whether you feel by disclosing you are limiting yourself to the job to the point of being excluded from receiving it, don't feel the company can support you or authentically include you into the team.
This is an important distinction as it is illegal for companies to discriminate against potential candidates due to their (Insert diversity) in the UK and as mentioned for tip 5 employers have a level of expectation by law to prove reasonable adjustments to all employees; especially those of marginalised and underrepresented backgrounds."
 If you do feel comfortable and disclose details, often the advantages include…
A company is able to get the right support in place for you before or as you start so you feel welcomed as part of the team.


A company learning how they can improve their offerings and do more to support (Insert diversity) with your help or at the very least your feedback if you are unsuccessful in getting a role."
"How do you bring up EDI enquiries in an interview?"
"I would suggest asking about 'what benefits does an employee receive?' or 'what the culture at the company is like?' to begin this journey down the EDI rabbit hole because both are questions that are increasingly asked yet are open enough not to ensnare you in any common awkward tensions. 
It is the devil in the detail of the employer's response to either question that will inform you how far you can go and chat about EDI.
For example, if you're chatting about benefits and a company doesn't highlight mental health initiatives, employee resource groups available and other quality of life benefits, that would be a bit of a red flag to me.  
People love chatting about anything to do with them and sharing what makes them happy, and if the interviewer(s) cannot sell you on why you should work for them, what they can offer and encourage you to learn more – there's something lacking there I feel!"
The good news is the games industry has been making progress on these systemic issues. While that progress has been slow, it's clear that the games industry is moving in a positive direction. What's also stark is the need for this to continue. The industry can't get complacent and must continue to empower through ongoing learning, connection, conversation, action and accountability. 
If you want to chat more with Dom about all things EDI, make sure to follow him on Twitter and check out all the latest from UKIE.
You can also join the Into Games Discord here.