We're delighted to announce our most recent partnership with the wonderful folks at 10:10 Games! Over the next year, Into Games is delighted to be working with 10:10 Games to forge new pathways into the games industry, while also helping establish the foundation of an inclusive, accessible and built-for-success studio.
The newly established independent studio 10:10 Games was founded in the summer of 2021 by industry veterans. We're elated to be working with such knowledgeable individuals who can make a real change to the industry, such as CEO, Creative Director, and five-time BAFTA award winner Jon Burton, and Co-Founders Studio Director Paul Flanagan and Design Director Arthur Parsons who has an impressive 24+ years of experience in games. 
Head of Partnerships & Development at Into Games, Brandon Cole, proudly said this about the partnership: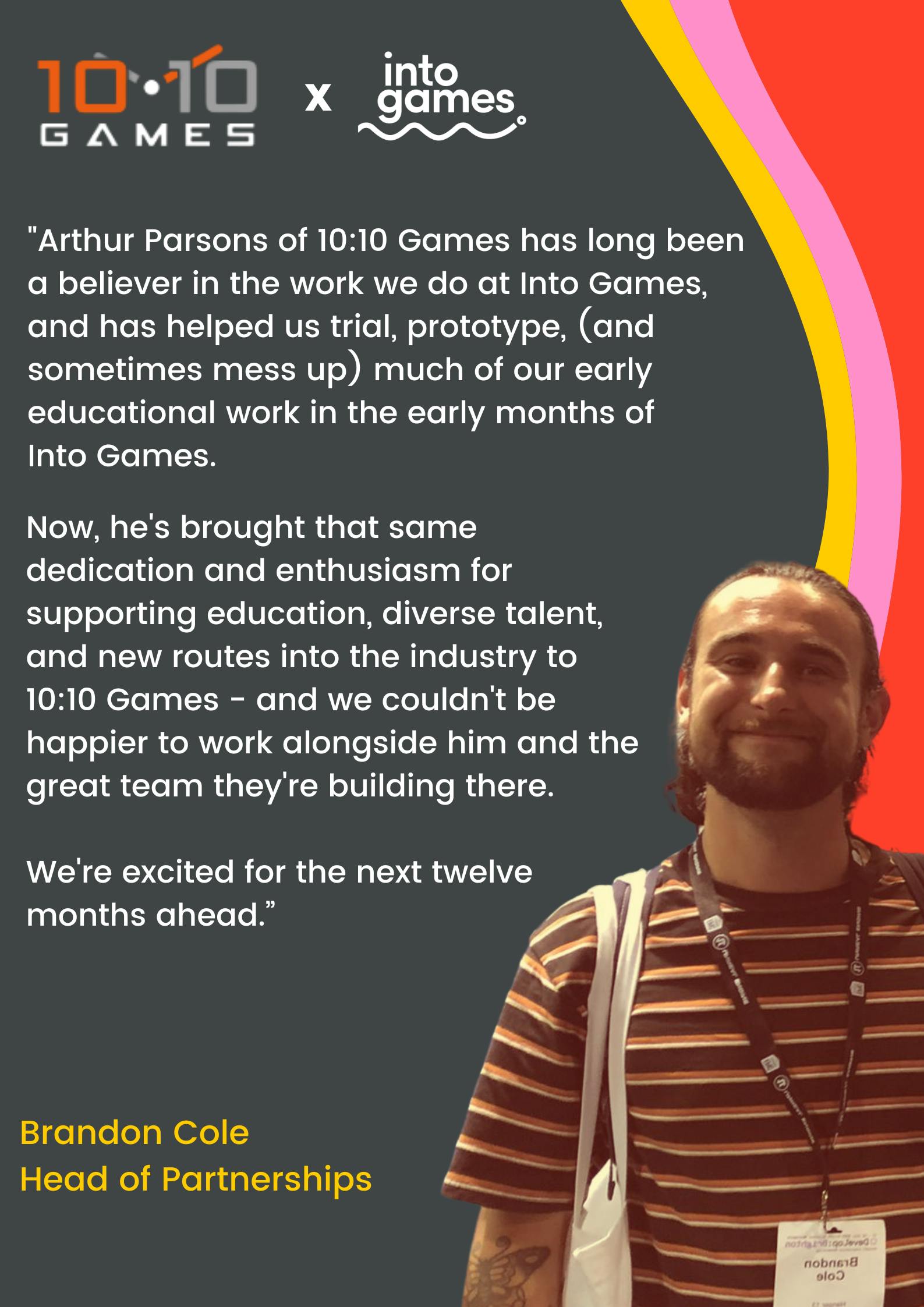 What we'll achieve...
Together we'll be delivering a year-long training program to the studio staff at 10:10 Games, helping them become better educators, public speakers and empathetic mentors and leaders. 
We'll also be supporting the surrounding area of Warrington by developing a vital games career after-school club which will directly encourage and support young people from disadvantaged backgrounds in the region to create games, and, further their understanding of jobs within games. 
So that students can continue using the skills they've learned, we'll also be providing every computer within these schools with lifetime licences and resources for GameMaker Studio 2. 
Additionally, our combined effort helps bridge the gap for older career seekers through the co-development of internship and apprenticeship programs; allowing for a more accessible way into the industry.
Arthur Parsons, Co-Founder and Design Director from 10:10 Games added this…
"At 10:10 Games we are committed to helping develop future generations of videogame creators, and as such want to do all we can to bridge the gap between education and industry. We are delighted to be partnering with Into Games so that we can deliver on our shared values, both locally within the North West, and also nationally. Providing support and guidance for those wanting to get into games, offering internships and apprenticeships, and doing all we can to offer role models for future talent from underrepresented groups, and help to provide multiple routes into games."
We're excited to start co-developing important initiatives with 10:10 Games to help make the road into the games industry more inclusive, accessible, and fun. Keep an eye out for our upcoming projects!
--------
If your organisation and its staff are passionate about inspiring - and hiring - the next generation of diverse industry talent, and are looking for fun, interactive, and meaningful ways to do that -  reach out to Brandon our Head of Partnerships & Development to find out more.