We're thrilled to announce our newest partnership with Avalanche Studios Group! For the next twelve months, we'll be working with the lovely folks in the Liverpool location to not only bring new perspectives and valuable training to Avalanchers but also jointly improve the pathways into the games industry for budding game developers.
"At Avalanche Studios Group, we've always valued the growth and development of both Avalanchers and the communities we live and work in. Many of our games are enriched by the contributions of talented individuals who just started our in game development. Wish us, they find guidance and a chance to express their passion.
Our partnership with Into Games speaks directly to this tradition of development and growth, and we're thrilled to be part of this initiative." - Tobias Andersson - Managing Director, Systemic Reaction at Avalanche Studio Group.
Avalanche Studios Group has nearly two decades of experience creating immersive and breathtaking open worlds using their own proprietary engine Apex, enabling near-endless creative possibilities. The developer is responsible for a wide range of titles such as the Just Cause franchise, theHunter: Call of the Wild, Generation Zero, the recently released Call of the Wild: The Angler, as well as the upcoming Contraband and Ravenbound.
We're delighted that a studio with so much experience is joining our family of partners in paving the way for a better industry. 
Head of Partnerships & Development here at Into Games, Brandon Cole enthusiastically added this about the new partnership: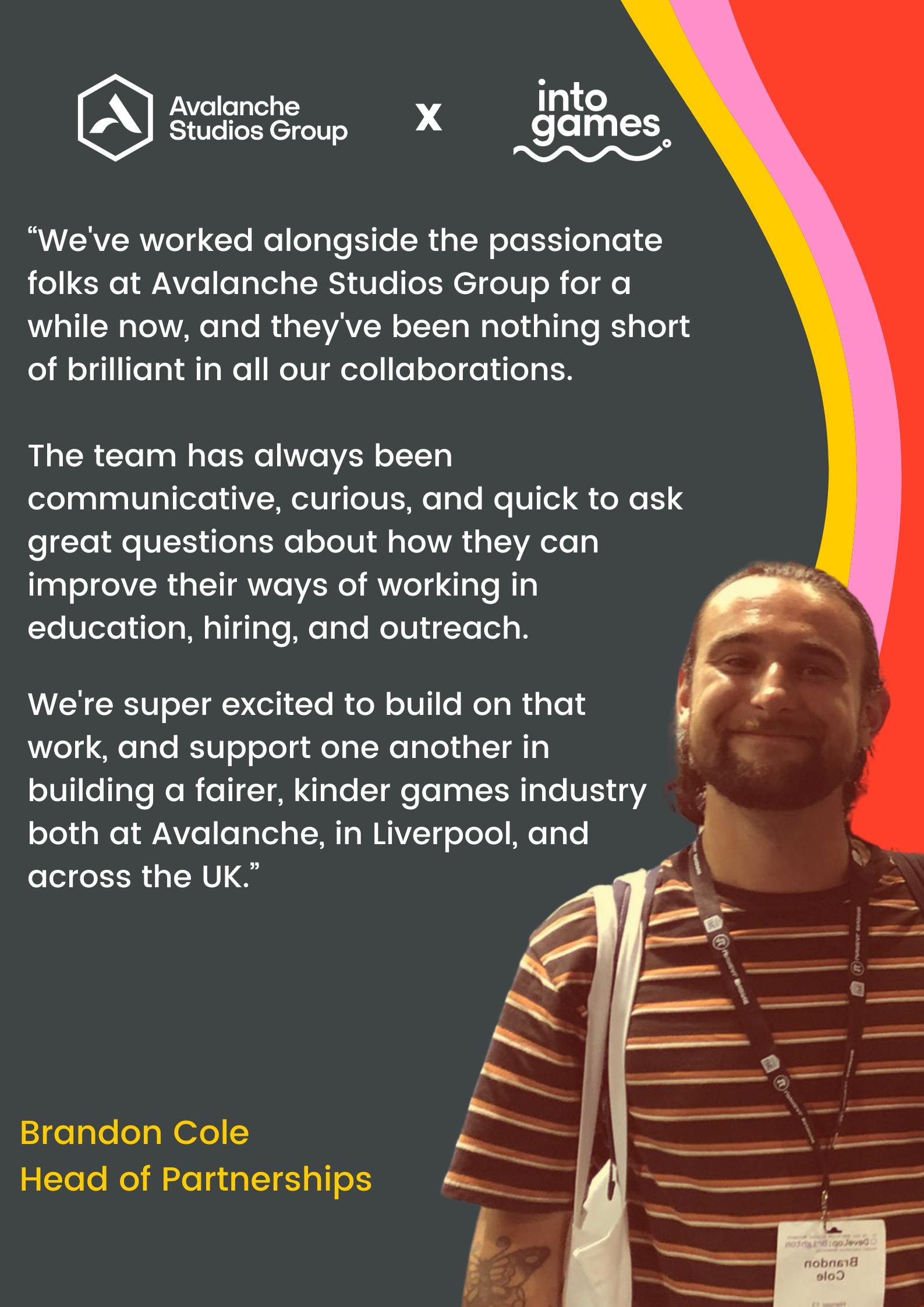 What we'll achieve...
During our partnership with Avalanche Studios Group, we'll be working together to deliver a year-long training programme to help Avalanchers become better public speakers, educators, and empathetic mentors and leaders.
This training will help us deliver support to their local area of Liverpool through the development of a games career-focused after-school club that will directly support young people from disadvantaged backgrounds to learn about jobs in games and how to create games. We'll work with Avalanche Studios Group to equip every computer in these schools with lifetime licences and resources for GameMaker Studio 2 so that the students can continue to develop the skills they've learned. 
For the career seekers who are further into their journey, we'll also be co-developing internship and apprenticeship programs that will benefit them, as well as hosting live-streamed hiring events where Avalanche Studios Group will be able to showcase their exciting new open roles!
"Avalanche Studios Group's Liverpool office is thrilled to be partnering with Into Games. For us, it's a brilliant way to continue fostering and growing the skills of our dedicated, creative, and extremely talented Avalanchers. But of course, it's mainly about giving back.
Through educational workshops, group meet-ups, and other activities, we're given the opportunity to further support the local community, including the schools and students that we share this great city with." - Keith Raythorn, HR Manager, at Avalanche Studios Group, Liverpool.
We'll be working towards hosting some exciting events, programs, and initiatives with Avalanche Studios Group in the future, so keep your eyes peeled for announcements about our partnership journey together as we strive to make the games industry more inclusive, accessible, and fun!
--------
If your organisation and its staff are passionate about inspiring - and hiring - the next generation of diverse industry talent, and are looking for fun, interactive, and meaningful ways to do that -  reach out to Brandon our Head of Partnerships & Development to find out more.