We're excited to announce our newest Into Games Industry Partnership with FuturLab!
FuturLab is a Brighton-based independent studio founded over 18 years ago, known for developing a wide range of games across multiple genres; from their early beginnings building their Flash game engine, PRISM to their puzzle adventure game based on the hit show Peaky Blinders: Mastermind, to their most recent success - PowerWash Simulator!
This is what Brandon Cole, Head of Partnerships & Development at Into Games has to gleefully say on the announcement: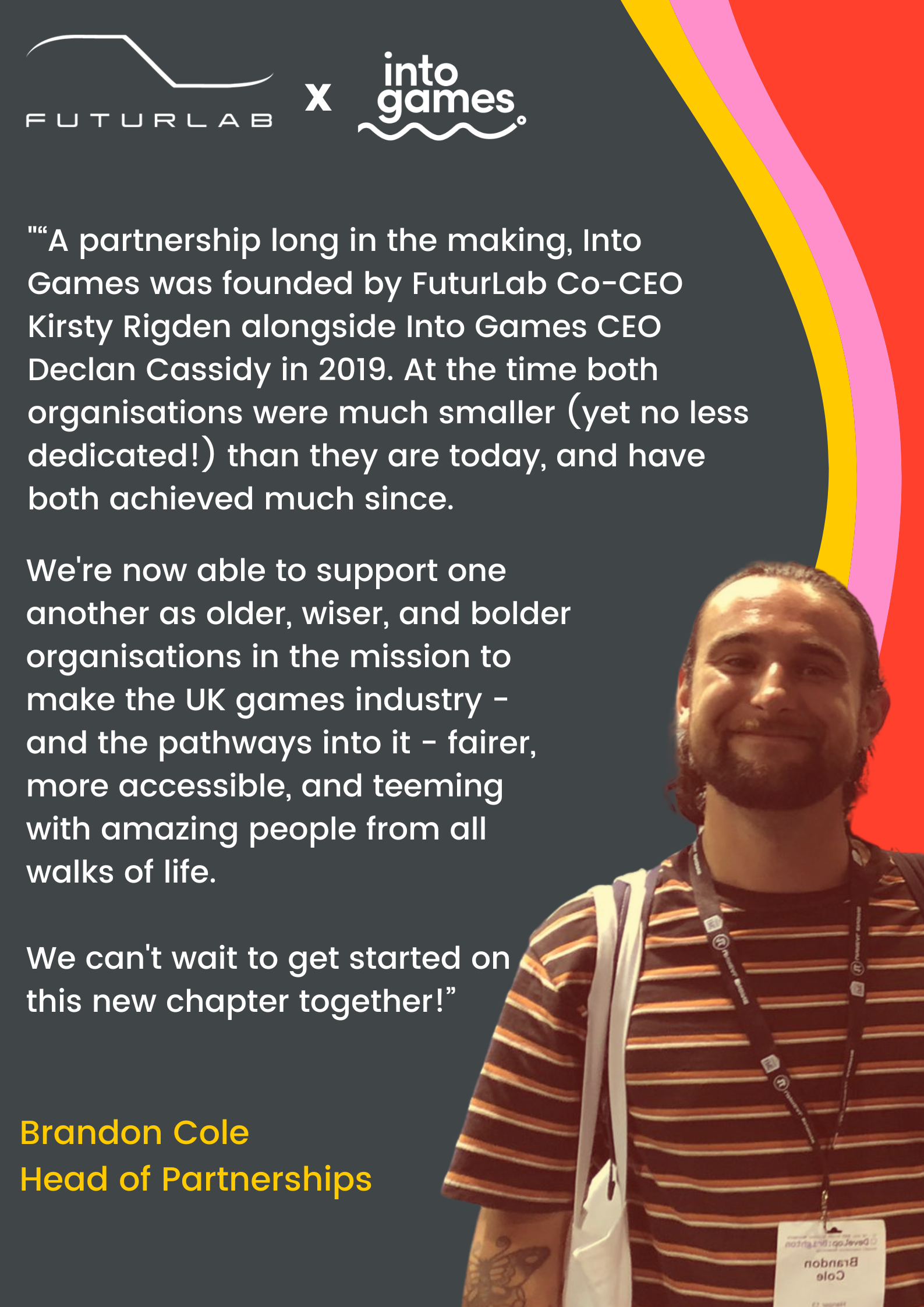 FuturLab is a studio which prides itself on being positive and putting its employees' well-being first, and we're delighted that they've partnered with us so that we can help do more of this fantastic work! 
What we'll achieve...
Over the next year Into Games will deliver a year-long training program to FuturLab studio employees to help them develop their educator and public speaking skills, as well as train them to become empathetic mentors and leaders.
Into Games will also support the studio in building new, inclusive pathways into the industry, through internships, apprenticeships, and accessible hiring events.
This partnership will also benefit the next generation of games talent, as we'll be working with FuturLab to develop a games career after-school club in FuturLab's local area of Brighton.
This will directly support young people from disadvantaged backgrounds in the region to learn more about the variety of jobs in games.
As an added bonus, we'll also be equipping every computer in the school with lifetime licences and resources for GameMaker Studio 2. This will directly support grassroots game-making in the local area, and we're delighted to be working with the wonderful folks at FuturLab to make this a reality.
FuturLab's Head of People, Keira McGarvey, says:
"FuturLab is so excited to work with Into Games to introduce more young people in our local community and beyond to the industry; encouraging them to consider channelling their creativity into a future career in games.
The FuturLab team will also gain an invaluable opportunity to develop their speaking and leadership skills whilst diversifying the way we search for and hire talent to provide a wider range of routes into the gaming industry."
Keep your eyes peeled for our future events and opportunities for our community which FuturLab will undoubtedly be a part of! 
--------
If your organisation and its staff are passionate about inspiring - and hiring - the next generation of diverse industry talent, and are looking for fun, interactive, and meaningful ways to do that -  reach out to Brandon our Head of Partnerships & Development to find out more.