In April 2022, we worked with Gloucestershire College to provide a bespoke virtual work experience, 'Studio Live', to their students; with the assistance of some incredible industry mentors from Mediatonic and our Virtual Games Ambassadors network. 
Students at Gloucestershire College were split into groups and tasked with an industry-standard brief supplied by Mediatonic themselves, creators of the hit game 'Fall Guys'. 
What is Studio Live?
In 'Studio Live' workshops, organised by Into Games, the students learn how to work together as a game studio for the week; designing and pitching a new game mechanic as part of a professional games studio brief.
We enlist game developers to supply a brief and mentor student teams in the design and prototyping of a game mechanic to help develop their skills. 
"A great experience working with the students, it's amazing to see what their creativity can create." - Emily McLeod
What did we achieve?
This was our largest cohort yet! We supported 72 students, with the help of 13 mentors for the duration of two weeks. 

Students created original game concepts, pitches, and demos from a Mediatonic brief that sought to capture that family-friendly, Mediatonic charm.

Their work culminated into invaluable final presentations where students pitched their ideas to mentors, providing them with an invaluable experience of taking a concept from ideation to professional presentation realisation.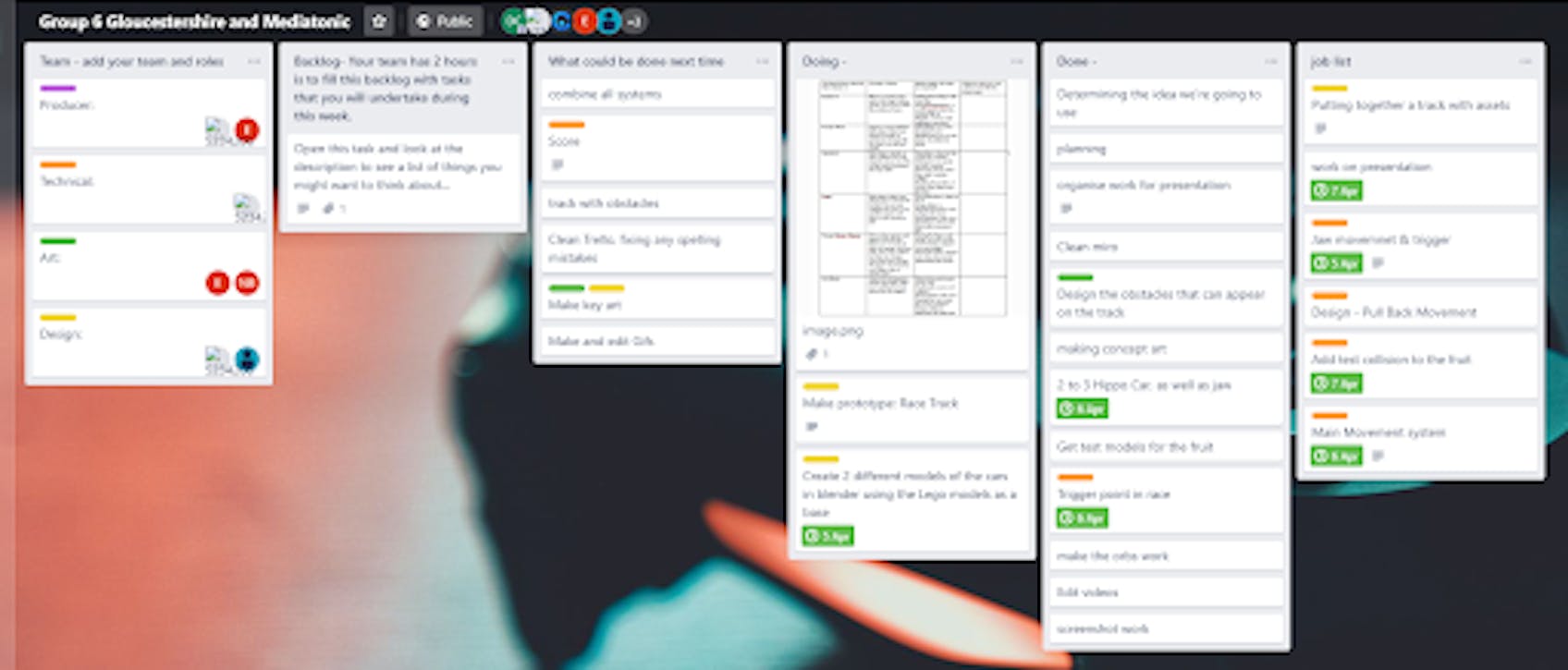 Students were taught how to use product management tools such as Trello to collaborate, organise and delegate tasks.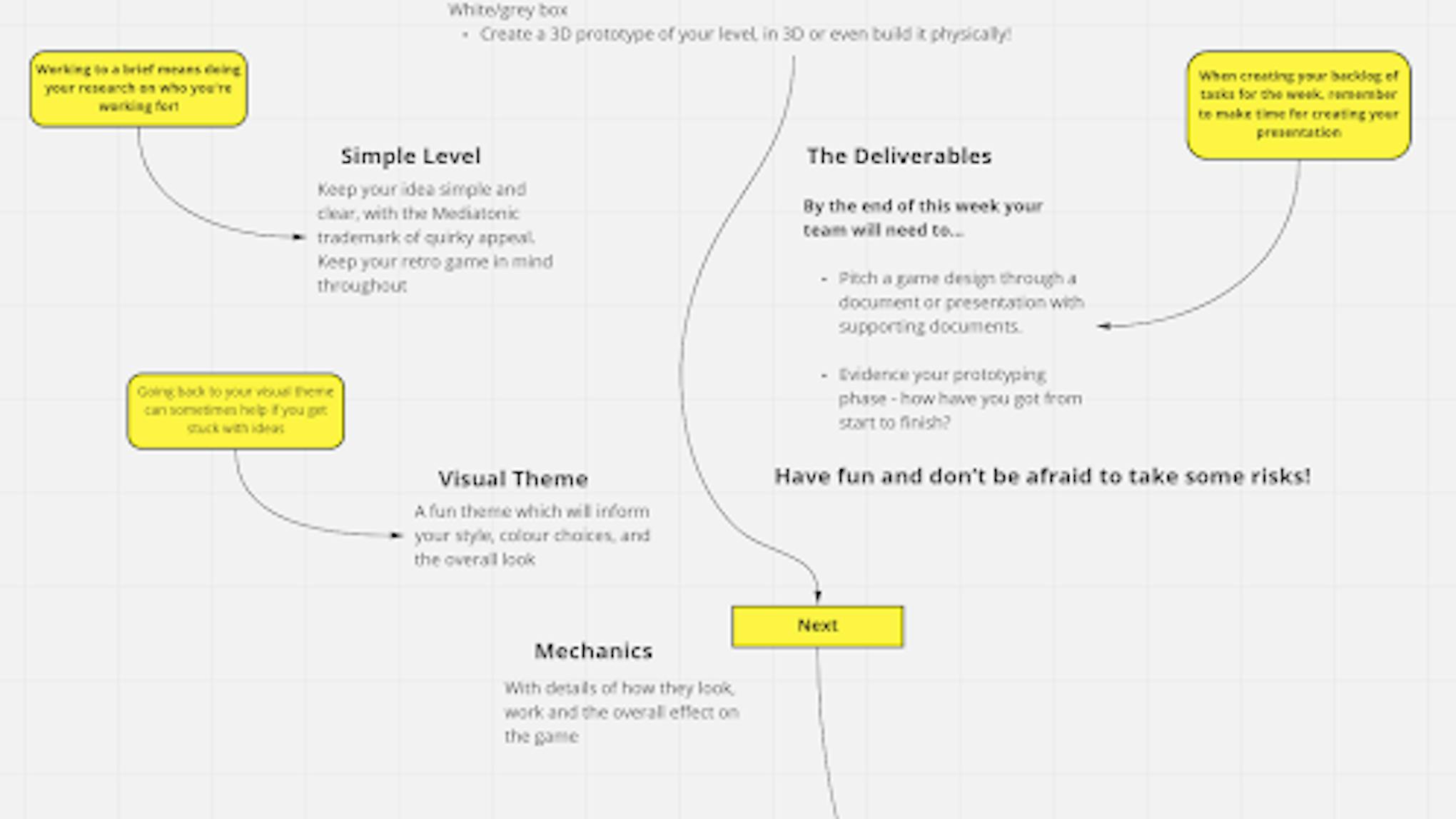 The above image shows an example of the breakdown of the brief that the student teams were challenged with. It provides key instructions on what aspects of game development they should keep in mind, and some great tips from their mentors.
Meet the Mentors!
Gloucestershire College Week 1:
Georgia Adamson, Character Artist at Mediatonic
Anthea Van Leeuwen, 3D Artist at Mediatonic
Daniel Gil, Senior 3D Artist at Mediatonic
Christopher McNally, 3D Environment Artist at Mediatonic
Emily McLeod, QA Tester at Mediatonic
Max Boyle, Games Designer at Mediatonic 
Gloucestershire College Week 2:
Steve Stopps, Development & Production Director at Excaliber Games
Christian Burberry, Software Engineer at Unity Technologies
Mark Backler, Founder and Creative Director at Sketchbook Games
Matt Osbond, Principal Technical Art Director at XBOX ATG
Demi Mark, Games Producer and Freelancer
Chris Sayers, VFX Artist at Mediatonic
The meaningful work experience provided by our Studio Live project ensures that students learn key skill sets to prepare themselves for studio environments and team collaboration in the games industry.
Thank you to Gloucestershire College and Computing Lecturer Robert Thompson for facilitating these Studio Live sessions. To all the students who got involved - it was brilliant to see you rise to the challenge and thank you for really getting engaged with this challenge. 
And, finally, a huge thanks to all the mentors from Mediatonic and our VGA network for their time in making this week a success!
"I loved being a mentor for StudioLive as I felt I was able to give my team real insights into the games industry and inspire them towards their goals. It was also a lot of fun to see their creativity and ingenuity, and I'm really proud of their efforts." - Georgia Adamson
If you're an industry professional interested in helping us provide a crucial studio-like experience to budding devs, you can read more about how to Become a Studio Live Mentor. 
If you want to get involved with similar projects, you can also sign up to become a Video Games Ambassador! Our VGA platform is regularly updated with educational and industry opportunities for industry professional volunteers to get involved with.
If you're an educator interested in getting involved with Studio Live, please contact george@intogames.org for more details.