In April 2022, we brought together Hangar 13 and Greater Brighton MET to participate in a week of virtual work experience. With an entire cohort of 28 students, split into 5 groups, they experienced what a week in the world of game dev would be like.
What is Studio Live?
In 'Studio Live' workshops, organised by Into Games, the students learn how to work together as a game studio for the week; designing and pitching a new game mechanic as part of a professional games studio brief.
We enlist game developers to supply a brief and mentor student teams in the design and prototyping of a game mechanic to help develop their skills. 
What did we achieve?
For this session, Greater Brighton MET students were challenged by Hangar 13, to create a mission for their hit series of games 'Mafia'. This involved the students researching and implementing historical accuracy within several aspects of their mission design.
Pictured above, is an image taken from a Miro board of one of the student groups. This shows the delegation of responsibility and roles within the student group, and the different aspects of production they were considering when ideating their mission.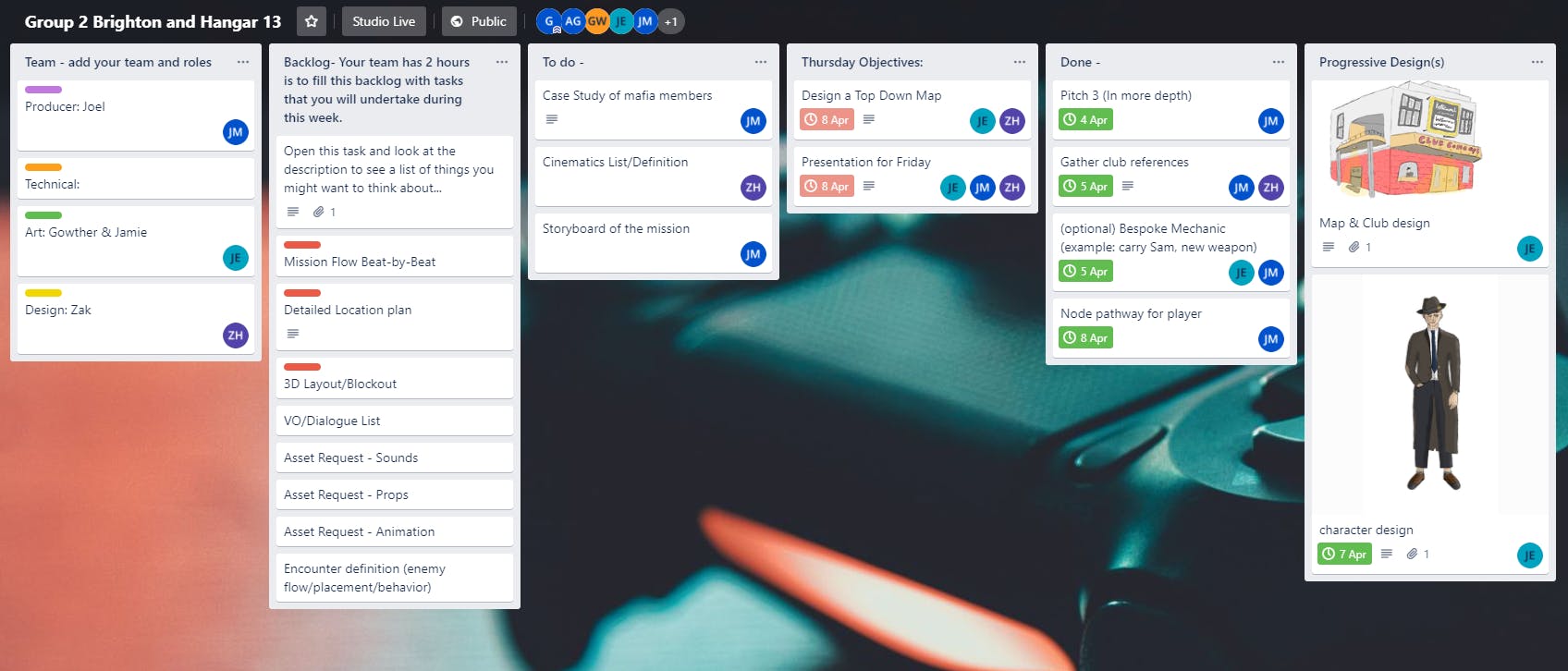 Students learnt how to use product management tools such as Trello to collaborate, organise and delegate tasks.
Students created original level designs from scratch that impressed mentors and other industry professionals in their one-hour pitch.
Meet the Mentors!
Gareth Bourn, Principal Designer 
Alixia Gable, Narrative Game Designer
Matthew Del Vecchio, Senior Environment Artist
Phil Davidson, Senior Producer
Georgie McDaniel, Games Designer
"I really enjoyed providing mentorship to the bright young faces at Brighton MET via Studio Live. It was great to see their enthusiasm for the industry and to guide them on their way to one day becoming professional developers." - Gareth Bourn, Principal Designer at Hangar 13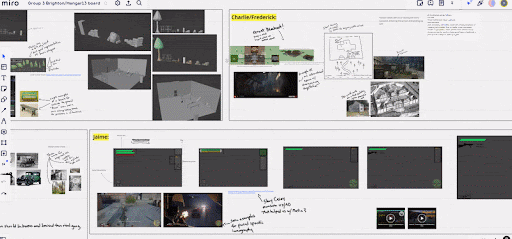 The meaningful work experience provided by our Studio Live project ensures that students learn more about what it's like to work in the industry. It provides them with a completely unique week of collaboration, support, and most of all fun! 
Thank you to Greater Brighton Met and the supporting staff Karena Morrison and David Neilson Smith for allowing us to provide your students with this support. A big thank you to all the students who got involved - It was brilliant to see you rise to the challenge and really get engaged with this challenge. 
And, finally, a huge thanks to all the mentors from Hangar 13 for their time in making this week a success!
If you're interested in getting involved with Studio Live, please contact george@intogames.org for more details.