IG50, short for Into Games 50, is our newly established project in collaboration with OPM Jobs.  
IG50 highlights the talented career seekers that are looking to get into the games industry and are ready for hire! We created this project after seeing the amount of incredibly talented individuals in our Discord community who haven't quite found their footing in the industry
Introducing this year's winners: 
We've worked with a panel of industry judges to select the top 50 most employable unemployed people, which you can now view here: IG50 2022 Winners
For recruiters and potential employers, please see our easy to filter version of the list and access the talent you need!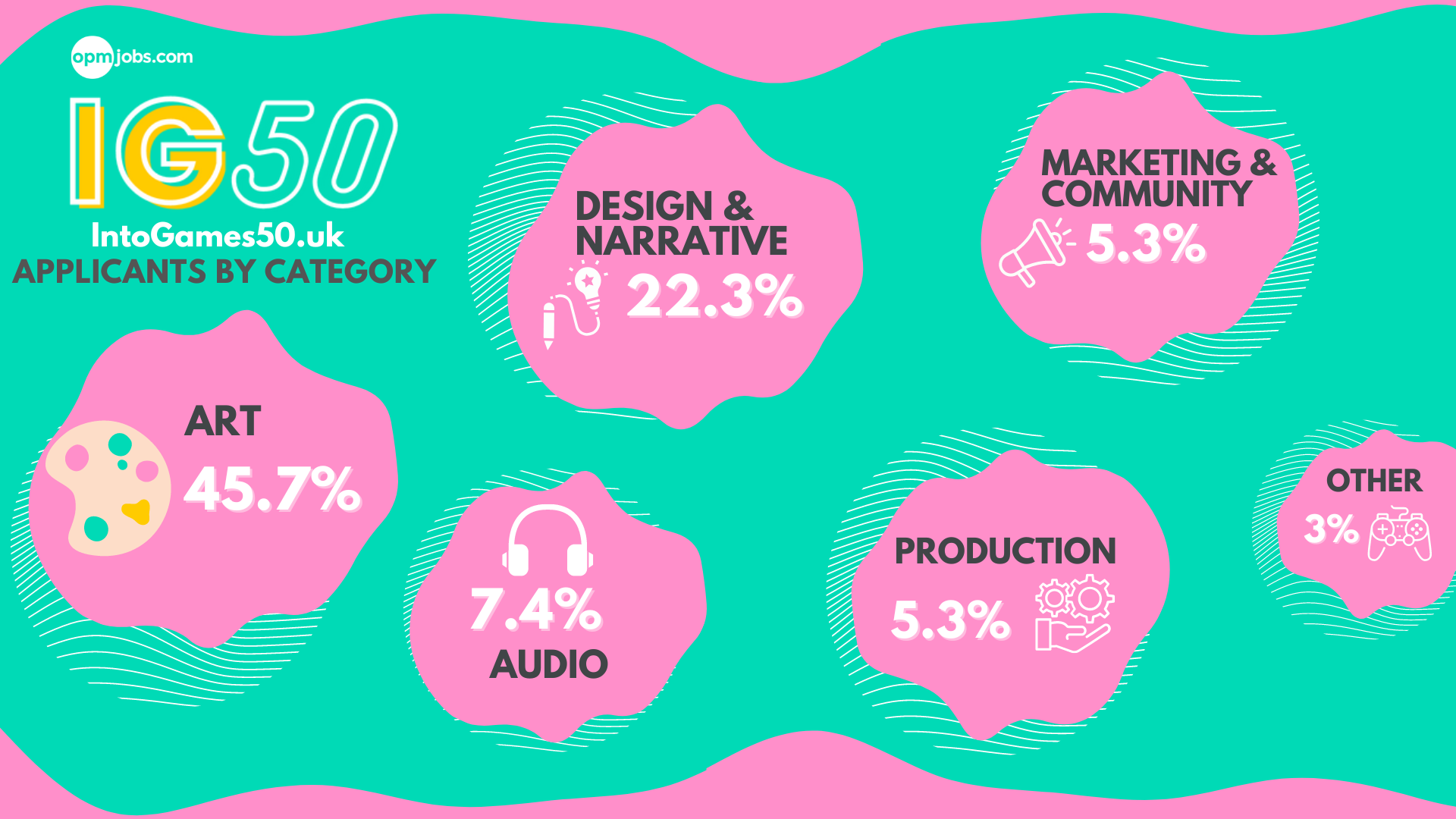 "This is a fantastic project! OPM are delighted to be a part of it, and continue our collaboration with Into Games. We are excited to unlock the potential talent of those ready to join us in the global games industry." — Kim Parker Adcock, Owner of OPMjobs
How were the winners picked? 
We split the incoming applications into different cohorts and created a jury of 3+ judges for each cohort. Since we had so many art applications, we had one specialist art jury just looking into artists; which was made of 2 art professionals and a lead game designer who all work in games.
The second cohort was judged by people who have a good understanding of general roles:
A Design Director, Director, HR & Facilities Manager, and someone from our sponsors OPM, who specialise in hiring for games jobs. 
Introducing our amazing judges!
🕹️ Judges for mixed professions:
Joanna Haslam, Design Director at Snap Finger Click
Sam Gage, Director at Engage Software & Senior Technical Designer at Mesmerise
Nathan Adcock, Marketing Manager at OPMjobs Jobs – our program sponsors!
Khally Saarman-Jones, HR and Facilities at Payload Studios 
🎨 Judges for art roles:
Anouk Debruyne, Environment Artist at Jagex
Dani Merrithew, Lead Game Designer at Kabam
Said Zamzad, Art Director at Hit Factor Inc
Each judge reviewed around 45-55 submissions and picked their top 10 candidates, then their 10 follow-up favourites, and then their last batch of 10 candidates they think are most employable right now. 
We then translated that into points and calculated averages between those votes.
The criteria we asked them to apply:
💼 Employability – Are they in a position to start a job in the next few months?
🧭 Transferable Skills & Experience – Do they display skills that would come in handy in the role or discipline they are trying to fill? Think soft skills as well as demonstrated mastery of tools, practices, etc.
🎯 Industry understanding & vision – Does the candidate show they have an understanding of the roles they want to work in? (can be omitted if they have been nominated by others)
What do the winners receive?
This year's winners will receive: 
✅ Their work being in front of the biggest UK game recruiters! 
✅ Their portfolio or pitch is viewed by some of the sector's biggest devs! 
✅ Exclusive employability support to land that first role! 
✅ Lots of press and attention to them and their work!
✅ Received a virtual badge to show off on their profile
✅ Special Role and access to an exclusive channel on the Into Games Discord
We will continue to support the IG50 winners on their games careers journey, and celebrate any success along the way.
If you're one of our talented winners, here's how you can maximise your win: 
Advertise your win! Share the supplied visual assets on your social media, and feature the award in your CV. Make sure to elaborate on what the IG50 is as some people may be unfamiliar with the award itself; you can talk about your achievement and the fact you were judged by a panel of industry pros! 


Continue to build relationships with the other winners! This is a great opportunity to build connections with your fellow winners and perhaps form teams to collaborate on projects or participate in game jams. You can all learn from each other and help each other grow! 


Keep us updated on your journey! We can support you with interview advice and tips on how to get into the industry, and also shout about your achievements even further! 


Take advantage of the resources, panels, and opportunities in the Into Games Discord! We've created an exclusive role and channel for winners of the IG50 award where we'll post the latest opportunities and resources we find!  
How can I take part? 
We plan to make the IG50 an annual award. You'll be able to nominate yourself, or other people you believe are deserving of the award when applications next open! 
IG50 is open to everyone who meets the criteria. There are two main criteria nominees have to fulfil to be eligible:
They must either live in the UK and/or have the right to work in the UK.

They currently don't work in the games sector or are looking to re-enter the workforce and have not worked in the same role in the games sector before. e.g. Programmer wanting to be a Community Manager.
This year, we had a lot of amazing diverse applicants, check out the stats: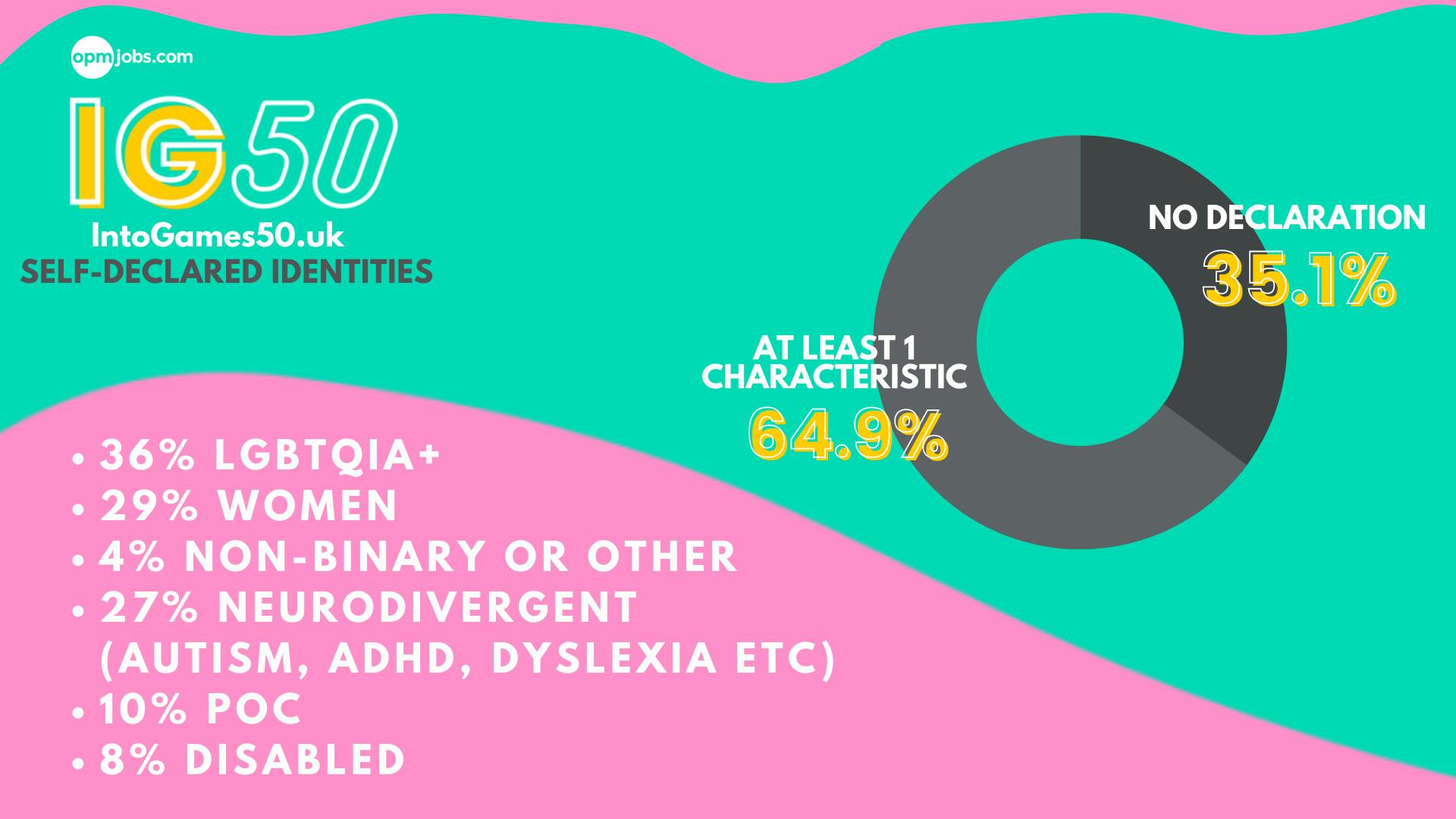 Next year we want to celebrate and welcome even more perspectives in the upcoming games industry. 
If you didn't have a chance to apply, or applied and didn't win this year, you can get started on getting ready for next year!
Here are some resources to help your application:  
One challenge many judges came up against during the judging process was that some candidates had hard to find portfolios or their submissions and portfolios featured broken links.
When applying to anything, ensure your work is updated and everything is there! Have another person check your work to ensure everything is correct and you aren't missing anything. 
If you want further information about what we expected from applicants this year, and other FAQs, check out our page for this! 
Best of luck to all our future applicants, and make sure to take a look at our current winners for inspiration!